July 4, 2016
Food, fermentation and fun
Story and photos by Russ Grayson, June 2016
THERE IS a woman talking fermentation. There's another talking pickling. Outside, there's a tour of the aquaponic system in the garden. In the other building a convocation of enthusiastic children make clay medallions. It's a busy scene here at International Permaculture Day 2016 at the Randwick Sustainability Hub.

The Hub is the name given the community education program that has been developed around personal and community resilience. Every year, International Permaculture Day is part of that program. This year's has a strong focus on processing food.

With community development a strong component of the permaculture design system, International Permaculture Day is the opportunity for convivial learning and for people to come together to celebrate the day.

With the strong interest in the local community around food, nutrition and gardening, food preparation was the chosen theme for this year's International Permaculture Day".
The fermentor
A small crowd has gathered around Gillian Kozicki. She's a slim woman, a permaculture practitioner from Sydney's northside, her long black hair framing a face the expression on which exudes the pleasures of teaching people how to ferment food. One of those people is Jenny Vaupel, a retired school teacher who made the journey all the way from Woy Woy on the NSW Central Coast to attend International Permaculture Day here at the Hub.

Sydney's North Shore is more commonly the home of political conservatism, but with the slogan 'Gardening Is Revolution' emblazoned on her Tshirt around the image of Cuban revolutionary, Che Guevara — dressed as a gardener and armed with a garden rake — Gillian presents a different impression.

She is preparing something in a large bowl and people peer into it to see what she does. Gillian's one-woman microbusiness is an avocation that she calls Cultured Artisans. Her other work is in accounting and finance. It is all about fermenting food and there on the table are bottles of saurkraut, a sweetish, fermented preserve made from cabbage. It's quite nice, really. She repeats the workshop later and it is just as well attended.
The pickler
In the other room Alex Elliott-Howery stands in front of her seated audience beside a table loaded with vegetables and glass jars. Over the next 45 minutes she fills the jars with those vegetables after chopping them and adding a vinegar solution. Her demonstration of pickling demystifies the process for those there seated.

Alex is a softly spoken woman in her thirties, her red hair loosely tied but escaping in long colourful strands. She is a proprietor of Cornersmith, a pickling business in inner urban Marrickville that offers workshops in the art and that operates a couple cafes. She also teaches pickling to children, including schools and soon to the EcoHeroes Club, the club for five to eleven year olds that meets monthly here at Randwick Sustainability Hub.

Looking at these two women teach you come to realise that the skills they demonstrate would once have been passed down mother to daughter. Those days are long gone, we all know, but it is somehow reassuring that both women and men are now interested in reacquiring those traditional skills in food preservation.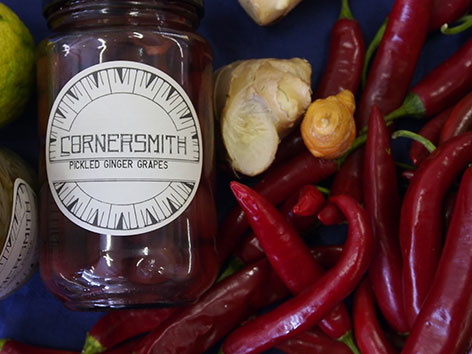 Repeating workshops
Workshops and tours were run twice during the afternoon so people didn't have such a hard decision choosing which to attend. Some of those with Steve Batley outside in the Permaculture Interpretive Garden would attend one of the later food preserving workshops, meanwhile they were busy learning how the semi-closed vegetable-fish aquaponic cycle device worked.

The system uses vertical hydroponic gardens though which water from the fish tanks below is circulated, the nutrients it bears supplementing those from the compost given the garden. Like the raised garden beds, the self-watering garden (a 'wicking' garden) and the citrus in large containers, the aquaponic system demonstrates possibilities in home food production in small home gardens.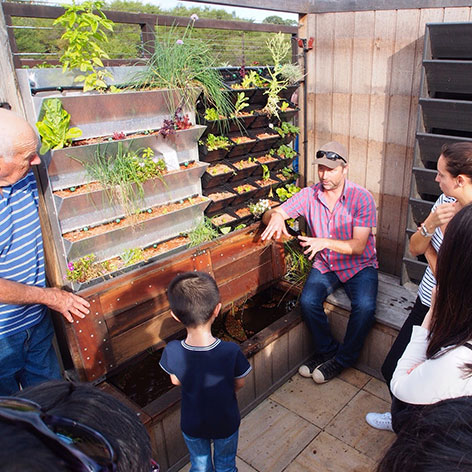 A distant hum
There's a hum of activity coming from the nearby classroom on the green where children are busy making clay medallions. The classroom is used for council's courses and workshops in organic and forest gardening as well as for the Eco Heroes Club and other activities. Made largely of recycled building materials, the classroom has been in use only for the past six or so months.

The childrens' activity is led by community artist, Karen Weiss. Karen has led similar activities on previous International Permaculture Days and for the Eco Heroes Club. She knows that children really like to make things.
A good day
This, then, is International permaculture Day 2016 at Randwick Sustainability Hub. Come evening, the film 'Polyfaces' will be screened and followed by a small groups discussion about the ideas in it.

International Permaculture Day 2016 — food fermented and pickled, garden explored, clay medallions made, a film — but, most importantly, people coming together to learn and enjoy each other's company.